Blessings are all you need and having a blessed day is one of the best feelings ever. In order to have a blessed day and be happy one must try their best to make their life beautiful.
A few days ago, a loved one wished me "Have a blessed day". "May God bless you".
We get blessings from our parents. Our parents always bless us whenever possible. Those who believe in God ask for blessings from God as well.
We ask for blessings in the hope to make our life beautiful and wonderful.
But, this got me thinking, are blessings even relevant? Does a blessing make any sense?
In search of the answer to these questions, I have tried my best to clarify some of the doubts that I had in mind and I am going to share the same with you.
What is a blessed Day?
A blessed day is a day that is beautiful and wonderful. What this means is your day was very good. You felt very good on a specific day. You felt blessed for everything you have. You got love from your loved ones, you woke up fresh in the morning or you met good people during your day.
So, does this all mean you were blessed that day? Maybe YES Maybe NO. There are ups and downs in life and some days you will feel blessed and some days you wouldn't feel blessed.
It totally depends on the encounters that you had during your day. Maybe you met some people that tried to con you. Maybe you met some people that tried to help you out with something that you need help with.
All these occurrences that happen during your day send vibes to your mind about how blessed you are.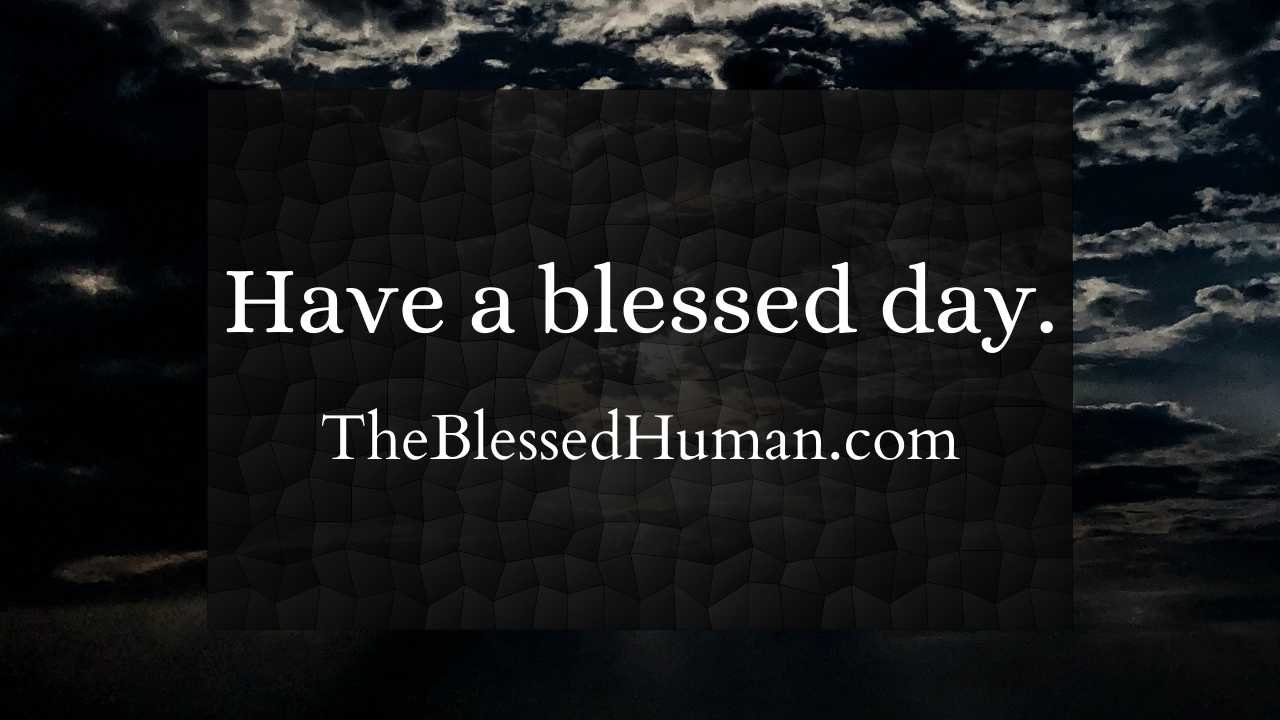 Are you blessed?
Yes and No. This is a controversial question. If you have things that most people don't own then you will feel blessed.
On the other hand, if you have everything that money can buy but you don't have peace of mind, does that still make you a blessed person?
Having the ability to buy whatever you want is a blessing in itself and if you can afford the same then this is the best blessing that you can have. On the other hand, having a good family life, good social life is also a blessing in itself.
Then there are people who live in poverty. They can't afford to have the luxury. They thrive for a meal a day and yet some of them seem happy.
So, is blessing a mind game?
I strongly think this is true. If you have everything then you will think that you are blessed. Even if a single day something bad happens then you start blaming God that your life is not blessed life. Our definition of blessing changes according to our needs.
Having a good and happy life is one of the best blessings that anyone can have. Waking up in the morning and having a wonderful day is what everyone dreams of and if you can achieve it then you will have a beautiful life that is full of love and good hope.
Why saying "Have a blessed day is offensive" to some people
We need to understand one thing that not everyone lives their life according to the way you live your life. Maybe you believe in God and the other person doesn't believe in God. Not everyone lives their life on hope. I have seen people get irritated when some say "bless you".
Maybe the reason behind this is that they don't believe in God and they don't believe that anyone can bless them. Maybe that person doesn't wake up in the morning with any love. So this may send a bad signal to that person.
Have a blessed day Quotes
"An early-morning walk is a blessing for the whole day." – Henry David Thoreau
"You are a blessing to my mornings." – Unknown
"When you arise in the morning, think of what a precious privilege it is to be alive -to breathe, to think, to enjoy, to love." – Marcus Aurelius
"Every day I feel is a blessing from God. And I consider it a new beginning. Yeah, everything is beautiful." – Prince
"Blessed are they who see beautiful things in humble places where other people see nothing." – Camille Pissarro
Have a blessed day Bible verses
"Every good and perfect gift is from above, coming down from the Father of the heavenly lights, who does not change like shifting shadows." – James 1:17
"And God is able to bless you abundantly, so that in all things at all times, having all that you need, you will abound in every good work." – 2 Corinthians 9:8
"The LORD bless you and keep you; the LORD make his face shine on you and be gracious to you." – Numbers 6:24-25
You can send these quotes to your loved ones and this may make their day wonderful. Small things in life make you happy. Life is hope and life is wonderful. Those who understand will bless themselves and bless others as well.